Differences between revisions 63 and 64
Deletions are marked like this.

Additions are marked like this.

Line 12:
Line 12:
If you are interested in becoming a member of SHAS, and joining the waiting list for a plot, please contact our Membership Secretary at <<MailTo(membership AT shas DOT org DOT uk)>>. Other contact addresses can be found on our [[People]] page.
If you are interested in becoming a member of SHAS, and joining the waiting list for a plot, please contact our Membership Secretary at <<MailTo(membership AT shas DOT org DOT uk)>>. Currently, the waiting time for a plot is around 12 to 18 months.

Other contact addresses can be found on our [[People]] page.
Line 16:
Line 18:

Always keen to support and work with the local community, SHAS recently welcomed Trafford's Pathways Project to the site. With the help of the Probation Service, an unused corner of the Grosvenor Road site has been transformed into a pleasant and productive plot. Pathways will use the plot to provide outdoor recreational activities for local people with learning disabilities.

Always keen to support and work with the local community, SHAS has recently welcomed service users of the Trafford Life After Stroke Support Service to our site where they now maintain a pleasant and productive plot. For mor details contact <<MailTo(traffordstroke AT stroke DOT org DOT uk)>> .

Line 18:
Line 20:

Pictured below are the raised beds on the Pathways plot, and a group representing SHAS, the Pathways Project, the Probation Service and the Community Service workers.

Pictured below are the raised beds on the Trafford Life After Stroke plot.

Line 20:
Line 22:
{{attachment:pathways1.jpg}}

{{attachment:pathways3.jpg}}

{{attachment:pathways1.jpg}}
Welcome to the website of SHAS -
The Sale Horticultural & Allotment Society.
SHAS was founded in 1988 and is responsible for the management of the Grosvenor Road Allotment Site which we rent from Trafford Council. As the name suggests, the site is located on Grosvenor Road, in Ashton-on-Mersey, Sale, about 5 miles south of Manchester city centre.
With over 150 members and almost 100 plots, SHAS is enjoying the current boom in allotments, inspired by a wish to 'grow your own' and at the same time enjoy the exercise, fresh air and the sense of community you get as an allotment holder.
Most of our members rent plots, ranging in size from just under 100 square yards to almost 400 square yards. Some of our members are waiting patiently for a plot to become available for them while others are happy to support us by attending our various talks and events, taking advantage of the special prices in our 'TradingHut' which sells many gardening needs throughout the growing season, or even joining the rota of helpers who keep the Trading Hut running by bagging up produce or serving behind the counter.
We are grateful to Paul, a SHAS member and plot holder who is responsible for designing and maintaining the website. We are constantly updating the content, to make it a source of useful information for members and visitors alike – with news items, details of relevant events, hints and tips and links to other useful sites. If you would like to contribute to the site, be it anything from a paragraph to your own page, please contact Paul at <webmaster AT shas DOT org DOT uk>.
If you are interested in becoming a member of SHAS, and joining the waiting list for a plot, please contact our Membership Secretary at <membership AT shas DOT org DOT uk>. Currently, the waiting time for a plot is around 12 to 18 months.
Other contact addresses can be found on our People page.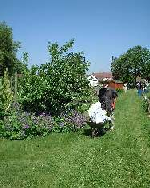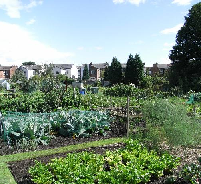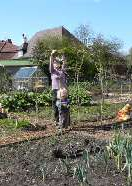 Always keen to support and work with the local community, SHAS has recently welcomed service users of the Trafford Life After Stroke Support Service to our site where they now maintain a pleasant and productive plot. For mor details contact <traffordstroke AT stroke DOT org DOT uk> .
Pictured below are the raised beds on the Trafford Life After Stroke plot.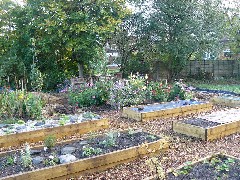 ---
WelcomePage (last edited 2017-08-12 11:29:24 by TonyTurnbull)